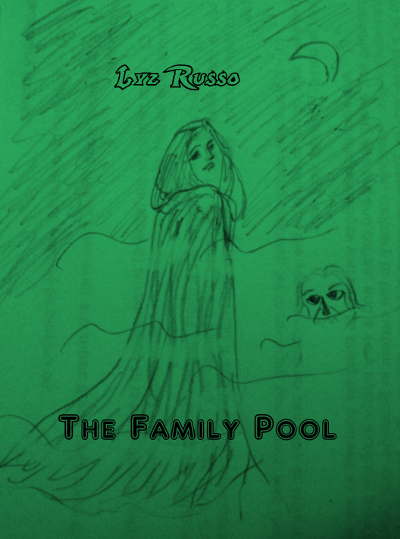 Mary Adams has married into money. At first this is amazing and she is overwhelmed with thankfulness; but as time goes by she begins to realize that all is not well in the wealthy family. She comes upon a creepy volume of genealogy in the library of the house that was given to her and her husband John to live in, and from there, her curiosity turns into an obsession to get to the bottom of it.
Available as:
P'kaboo Paperback* €9.00

P'kaboo eBook €6.00

*A shipping charge will be applied.
Reviews:
[5.0 out of 5 stars] Watch Out For the Family

Mary Jenkinson's marriage to John Adams was more than she bargained for. The Family Pool by Lyz Russo is an excellent short story of family drama, mystery, and intrigue. Mary found out that once you married into the Adams family, all that glittered was not gold. Even though John appeared to be the man of her dreams, his family legacy held a deep dark secret. On the outside the family possessed wealth, but on the inside there were rules and regulations that all family members obeyed in order to maintain their lifestyles. The family ruler and patriarch, Uncle Daniel, called all the shots in the family, from where the members would live to that of the in-laws. Mary reveals to the family, by mistake, that she's pregnant and begins to wonder upon this announcement what all the whispers and disdain are about. What Mary did not realize is that by her being pregnant she was violating the family's laws of order.

I enjoyed reading The Family Pool by Lyz Russo because not only was it a great story, but Lyz was able to deliver the story, plot, and ending all within this short read. If Alfred Hitchcock was alive, I believe that The Family Pool by Lyz Russo would be one of the stories that he would chose for his mini movie series collections. If you do not like the original ending, Lyz has offered an alternative ending that you may enjoy. I personally liked the original ending because it added an element of suspense to the story. However, the alternative ending can be used as a sequel. If you like family drama, mystery, and suspense tales, get a copy of The Family Pool by Lyz Russo. I am sure that you will enjoy it.
(Reviewed in the United States 🇺🇸 on September 3, 2016)

(more reviews on Amazon, Smashwords and Goodreads)
About the Author:
Lyz Russo is a writer and musician. Together with her husband she ran a very active strings teaching studio in Pretoria, South Africa, but moved to Ireland with her children after his untimely death. Her three children are, as always, her primary inspiration and her motivation.
... more about Lyz Russo